They say your kitchen is the heart of your home and for most Kiwis it is either the kitchen of the BBQ where the people gather when they entertain.
We recently built our own new home in the new suburb at Hobsonville Point in North West Auckland.
It was built by Jalcon Homes who are one of the building companies operating within Hobsonville Point. Our new home was completed at the end of 2015 and this year was entered into the 2016 House of the year getting a silver award. It was very pleasing to see some recognition of the build quality and overall design and I'm sure this this was helped by our kitchen design.
Many of the new build homes in Hobsonville Point are sold off the plans with very little opportunity for the new home owners to make changes to the plans or to personalise the home apart from some colour choices. With our purchase we were able to make some changes within the design and in particular to design and fit-out our new kitchen.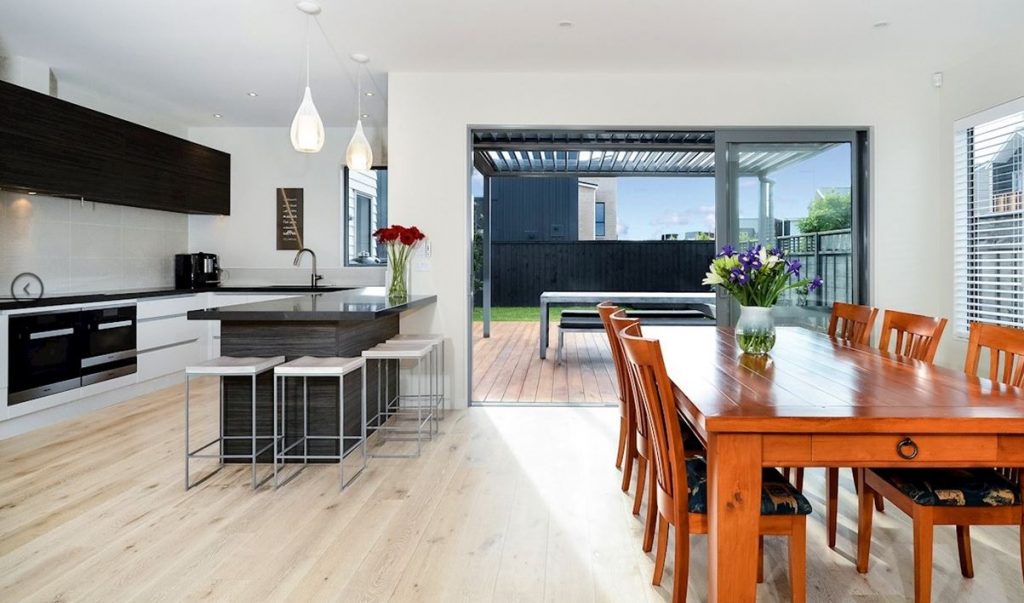 Your Home & Kitchen Needs To Suit Your Lifestyle
It's all very well to have a kitchen as a design statement, but first and foremost your kitchen needs to be functional and suit your lifestyle. Designing a home or kitchen can be fun and will stamp a personal touch to your home.
It's a good idea to look around and focus on a few things that you would really want in a new kitchen in your home. Everyone will have different ideas and of course there will be compromises – whether it be because you and your partner cannot agree or due to budget constraints.
When we set about designing the kitchen in our new home we had a few key things we wanted;
We wanted clean lines without a large fridge dominating the space – in fact we included an integrated Fisher & Paykel CoolDrawer which sits under the bench and provides space for all our everyday requirements, and then we have a full size double door fridge freezer in the laundry. This has worked better than we thought and made it easy to keep the clean lines we wanted.
We wanted a breakfast bar – we liked the idea of having a breakfast bar that went around a corner as that way we could easily talk while sitting there. In our previous home we had a long bench in the open plan kitchen and we all sat in a row which looked good, but was not really that social – it was not easy to talk to each other down the bench.
A key was to have two ovens – in our previous home when we renovated the kitchen we included two ovens and used them regularly when entertaining, but even in general cooking it is very handy to have the second oven. When we designed this kitchen we went one step further and went to the Miele ovens including the steam oven which was a bit of a luxury but something that we really do use a lot now. The great thing with ovens is they are almost all a standard 600mm size, so if you are constrained by the budget (which is common when building) then you can always change over the ovens at a later stage.
Plenty of bench space – we have had kitchens in the past where there has been limited bench space and they are not easy to work in. We wanted plenty of bench space and the ability to work within a step to the fridge, the ovens and the sink. We have been very pleased with the way this kitchen works.
It was important to have good storage – we have managed to include a scullery (pantry) which gives us good kitchen storage plus we have used large under-bench drawers which can fit a lot. We did not go for the fancy (and expensive) kitchen cupboard storage solutions and even have blanked out the corners which are always hard to access.
Efficient but quiet appliances – with the range-hood / extractor being on an internal wall there is quite a distance to the outside vent and therefore we needed a powerful extractor but also we wanted to keep the noise levels down. In our previous home we had a Miele range-hood so again we went for the Miele but this time a fully integrated model. We also chose a Miele integrated dishwasher as we had previously had one and liked the low noise given that we have a very open plan kitchen and features like the cutlery tray and ability to take the larger plates.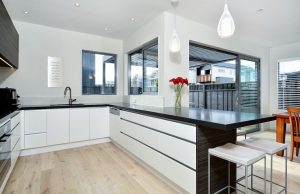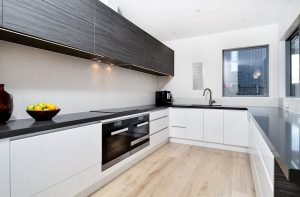 Those were some of the things that we really wanted and which formed the basis of our new kitchen plan.
My name is Stuart Wills and I am a mortgage broker who can share my experiences with the design and building process as well as my experience to ensure that you get the new build finance package that is right for you.
When you design your home and kitchen you need to think about what is important to you.