Sovereign Home Loans Provide Better Home Loan Rates

Most major banks have a "standard interest rate" and a "special interest rate" with the special home loan rates only being available to people that have more than 20% equity or deposit.
If you have less than 20% deposit then generally the standard rates apply, plus a low equity margin or low equity fee.
That Is Changing … Standard Go Rates Now Special
It has been announced that Sovereign Home Loans have removed the differentiation of the standard and special rates.
The rates have always been discounted for people with more than 20% equity (or deposit), or another way to look at this is that if you had less than 20% equity you were penalised.
How that has changed!
Now you will see just the one set of rates which is the same as what have been the "special rates" which will make a big difference to many borrowers.
Low Equity Margins Still Apply
If you have less than 20% equity (deposit) then the low equity margins will still apply.
But now the margin is added to the lower rate, which certainly helps.
Consider a first home buyer with a 10% deposit. They could have fixed their loan for 2-years and would have been charged a rate of 3.94% (standard rate of 3.19% + LEM of 0.75%) but now they can get the new lower rate so even with the low equity margin they would be paying 3.44% (2.69% + LEM of 0.75%).
That's 0.50% less and for a first home buyer with 'say' a $450,000 mortgage that would save about $45 per week ($2,250 per year) which can make a huge difference.
How Much Difference Can That Make?
We looked at the same example of a first home buyer with a $450,000 mortgage.
As mentioned above the saving is about $45 a week, but if you then added that to your mortgage reapyment you could save a lot more.
As the calculator below shows you could pay your mortgage off over 4-years faster and save over $40,000!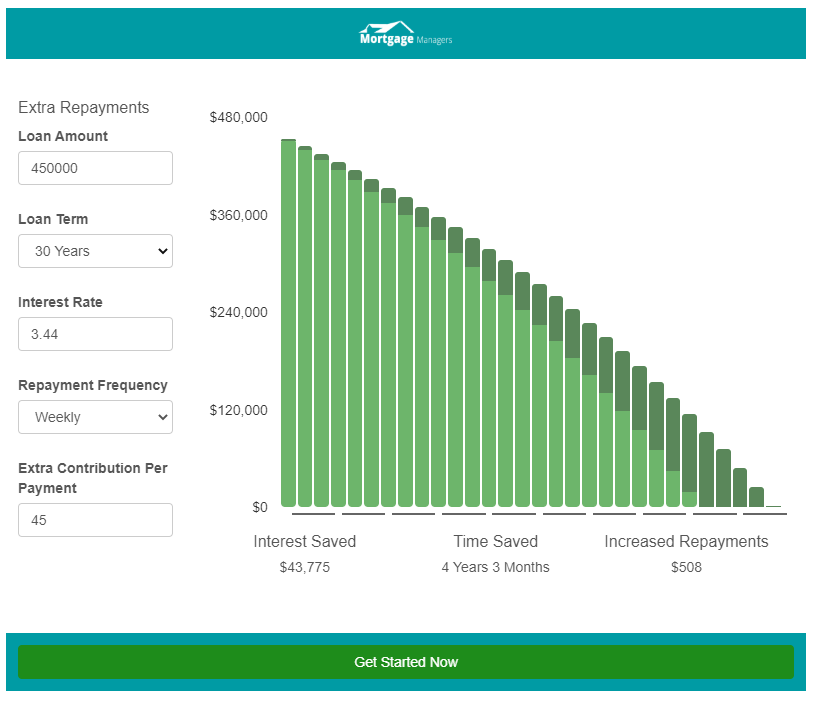 Let's Talk About How This Helps You
If you would like to review your existing mortgage with Sovereign Home Loans or are considering a new home loan then you should speak to one of our advisers.
It costs nothing to talk, and getting the right loan and loan structure could save you a considerable amount.
At this stage we have not heard from other banks, but Sovereign Home Loans operates as part of ASB Bank so we are expecting an announcement from them soon too. Both Sovereign Home Loans and ASB Bank have the same advertised home loan interest rates, but Sovereign have the benefit of no fees and they do not require you to switch your everyday banking.
We are sure that other banks will try and be competitive too.
We are here to help.
The post Sovereign Home Loans Provide Better Home Loan Rates appeared first on Mortgage Managers.
Source: North West Mortgages