Learn Why Loads Of Kiwi's Are Refinancing Their Home Loans

You may have heard of friends refinancing their home loans and wondered why they were doing this.
It seems like a hassle, and will a different bank be any better?
And some Kiwi's still believe that it's better to stay with the same bank and surely loyalty counts.
So Why Do People Refinance?
There are five main reasons that make people think about refinancing their home loans;
You are not happy with your existing bank – as mortgage advisers this is something we hear all the time. Banks have been cutting costs over recent years and one area is on staff which has seen a lot of good bank staff leaving and we are always hearing about poor service levels at both the bank branches and with the remote staff too.
You want more favourable loan facilities – rather than having the bank dictate the loan terms, some loans give you as the borrower more control to adjust the loan terms or repayments to suit. This enables you to pay your loans off a lot quicker, and therefore can save you a lot of money.
To borrow more – sometimes you will want to borrow more and when you approach your bank it all seems too hard. There are a lot of lenders that just cannot be bothered with small top-ups and this can be frustrating.
You have been with a lender that you never wanted – sometimes in life we need to get finance and that might mean we just take what is offered. Often this might be with a non-bank lender as your situation meant you could not get bank finance at that time. But things have changed and you are now able to refinance to a bank.
You may just want better rates – the banks are always changing the interest rates on home loans and sometimes one bank will run a special that seems more attractive.
Of course there are many other reasons too, but these are five main reasons that we see where people think about refinancing their home loans.
The Biggest Problem With Refinancing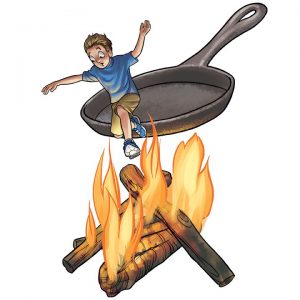 There are plenty of reasons to refinance your home loan, and there are plenty of reasons why it may not be such a great idea, but the biggest problem we see is when people refinance without really knowing if the new bank will be any better.
People will often make a decision to switch banks in a hurry, and without much thought.
You get annoyed with your bank, so you walk into the bank next door and get "sold" on the new bank and how much better they are. But 6-months later and you are regretting the move.
It's easy to make a decision based on emotion, and it's natural too. However you need to take a step back and look at the bigger picture and decide what you want first. Make sure that you know what is important to you.
As mortgage advisers we help a lot of people with making these decisions in a logical way.
A good adviser is looking at your situation without the emotion, and once they know your situation and what you want to achieve then they can make recommendations based on that.
Home Loans Are Not All The Same
For most people they look at the various banks advertising and are focused on what rates the banks are offering. It seems to be the key focus of advertising for the banks.
But there is a lot more to a loan than just the interest rate.
Good advisers will be able to explain what home loan suits your situation, and therefore help you decide if refinancing your home loans is the smartest things to do.
Here at Mortgage Managers we make it easy to check if refinancing your home loans is the smartest move.
Just make contact using this form and as adviser will be in touch. Please let us know if there is anything that is annoying you now, or if there is something that you want to do better.
The post Learn Why Loads Of Kiwi's Are Refinancing Their Home Loans appeared first on Mortgage Managers.
Source: North West Mortgages